Five Things Everyone should Know about a Video Door Phone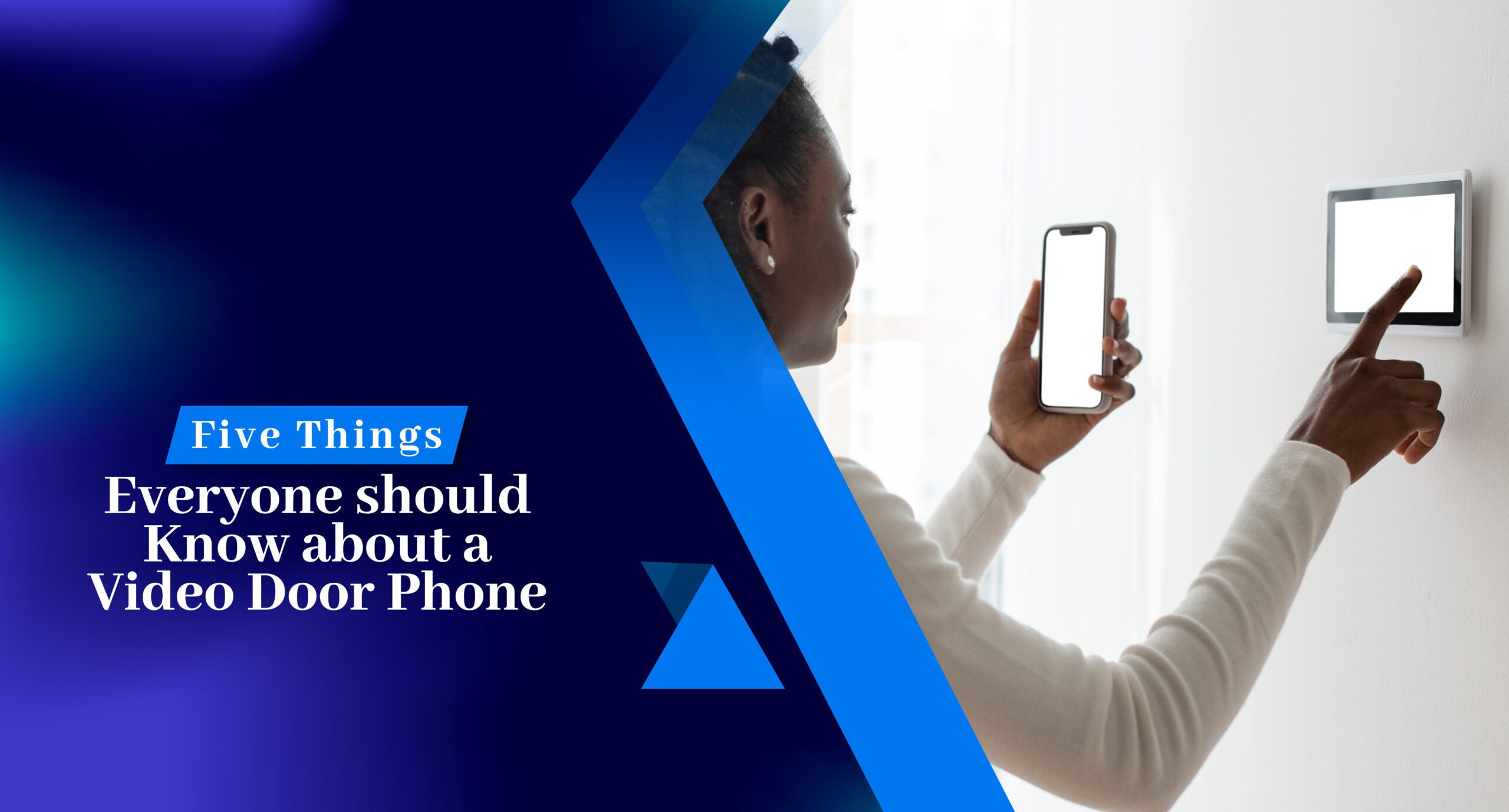 The invention and modernization of the video door phone has revolutionized home security. By incorporating convenience, safety, and video feeds into basic intercom technology, the security solution has been significantly modernized. Besides this, modern video door phone technology or video intercoms also allow for remote access to view one's home from any location. So, what other unique features do video intercoms have? In this post, we will discuss five things everyone should know about a video door phone. We will also highlight its benefits to you as a home or business owner and most importantly, how to get one.
By far their best feature, video door phones give homeowners and business security personnel the option to see visitors from a remote location. As with standard intercom technology, this generally includes the ability to speak with and grant or deny access as well. In recent years, video door phone solutions have become increasingly popular due to increased accessibility, security, and convenience.
With a video door phone system installed, one can see visitors, track events around one's home or business and monitor access. Purchase and installation of these devices is simple and can be handled by our team installation experts. To get started, simply contact us online, by phone at +1 510 356 0083 or request a quote here.
In the next section, we will take a closer look at what a video door phone or video intercom is. However, before we do, here are some related posts you might equally enjoy:
Next, we will take a look at what a video door phone is and its benefits.
What is a Video Door Phone?
A video door phone, or videophone, is a modern intercom solution that allows for video communication and access control on one's property. In general, they consist of the following major components:
A monitor to display images from outside the property,
Audio communication and access management components such as door lock activators, etc.
A CCTV camera located near the main entrance
Administrative account and management software
The primary benefit of this technology is for surveillance of one's exteriors from a remote location before granting access. Unlike voice-only intercom solutions that had several security flaws, video door phone technology takes the guessing out of who you give access to.
Newer models now include remote access capabilities, allowing one to view and grant access from a remote location.
Benefits of a Video Door Phone
Like we've said already, video door intercoms are a safe and effective way to monitor and grant access to your home or business. This is why they are becoming an increasingly popular security solution. Here are some benefits of having a video door phone:
Increased Security: Businesses and homes are safer when one can see and communicate with whoever is requesting access to one's property. There is also an extra layer of security added by not being in close proximity to someone who may be denied access. Also, video footage from these devices may be recalled by security personnel if necessary.
Convenience: For homes and other high security commercial properties, it is much more convenient to see, speak with and grant access to someone using a video door phone than to do this manually. This is especially convenient in large commercial properties and homes.
Visual Features: Besides having video feeds, video door intercoms also come with additional features to enhance security. These include enhanced video for night vision, wide-angle lenses, and improved video in low visibility conditions.
Advanced Controls: Besides these features, modern video door phones also come with advanced controls for remote access, SSL encryption of video feeds, cloud storage of videos and other advanced privacy and safety features.
Besides these, door intercom security solutions have several other benefits. In the next section, we will highlight five things to know about them.
Five Things to Know about a Video Door Phone
Here are five things everyone should know about video door phone:
Easy Installation: Standard intercoms and older generation video phones required extensive wiring, DVR recording devices and multiple cameras. Modern video door phones, however, are much easier to install, making use of wireless networks or fewer cables to connect. As such, installing a them is much easier. For more complex installations in commercial properties and Offices, including setup for multiple entrances and cameras, we recommend our professional installation and maintenance services. Simply contact us here to get started.
High Quality Video and Audio: Video Door Phones come with high quality video and audio feeds, including special features like wide angle lenses, video, and audio recordings, etc.
Theft Deterrent Security Systems: Modern door phone designs incorporate theft deterrent security features such as motion detection, which are activated whenever movement is detected. This ensures that the door intercom device is tamper resistant, recording the incident for future resolution.
Versatile Applications: Besides being used as a door intercom, video door phone technology also includes a wide array of other features. These include motion activated video recordings, cloud storage, audio recordings, motion activated lights, wide angle lenses, and low visibility video recordings. These additional features may help enhance customer safety and surveillance goals for home and business setups.
Remote Access: The last thing we would like to point out about video door phones is that they are now equipped with technology for remote access. This means that businesses and homeowners have the option to connect to their devices from any location outside its primary install location. For example, a homeowner may connect to it through an app installed on their smartphone. Additionally, such remote access would provide capabilities including features available if the person were at home. This could include communicating with guests at the gate and providing access to one's home.
As we conclude this post, it's important to note that video door phones provide advanced security for both homes and commercial properties. Services they provide include two-way video and audio communication, remote access, integration with home automation, and several other features.
If you are in the market for a business or home video door phone, we encourage you to contact us today for a customized solution for your specific needs. You may also contact us directly online, over the phone at 510-356-0083 or on Facebook, Twitter or LinkedIn today.
---